---
This article is the first of a two-part series kicking off cycling season. Read Part 2 Here ›
---
It's Tuesday – "Easy Ride" day. I hope the hardest thing about today is getting out the door. It's too cold to ride. It's raining. The clocks have sprung forward, but it's chilly, damp and gray. I'm bundled up: tights, wind-proof gloves, thermal jersey, warm cap under my helmet and hi-viz rain jacket. I flip on the flashing headlight and taillight, activate the cycling computer and grudgingly head out to the locomotive at Stewart Park. I'm watching the clock like I'm waiting for the recess bell. It's 5:58. Just two more minutes. Surely nobody else is gonna come out in this and I can go home and get warm. I've done my part. I showed up. Come on 6 p.m.!
Then I see the bright orange flag flying above Jack's tricycle. I watch as Jack rolls in and I greet him with enthusiasm that I hope belies my just-abandoned plan to go home. I'm still cold, but buoyed.
Jack will be 80 in August. He's a friendly guy, a Marine veteran, retired teacher and one of my favorite Tuesday ride partners. He's always happy to be seen and has a quick word for everyone. Last I talked to Jack he needed a new hip before he could get back on the bike. Here he is with new hardware, eager to ride. Jack's tricycle is something to behold with an electric assist motor and tires that'd fit a motorcycle. He could, I suppose, engage the power and leave me behind, but he doesn't.
Roger enters the gravel parking lot from the other direction on his electric assist bike. I greet Roger, sincerely happy to see him. Misery loves company, after all, and now I'm even happier to have braved the weather.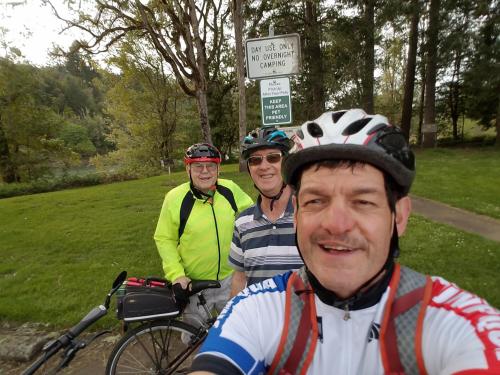 We decided to ride to Singleton Park – a 12-mile round trip. We traverse Hucrest, scramble up Troost Street and turn left onto Garden Valley Road, enjoying the wind in our face on the big downhill. The view over Garden Valley never disappoints. We pedal along on the wide shoulder, chatting about bikes, the world, and the people who didn't show up. At some point we chuckle about the conditions; robust and rugged, sniffy and assured about our grit. We "Three Amigos" - 6 legs, 7 wheels and 190-some years of life experience between us – make the left turn onto Curry Lane and ride through newly-planted fields. We glide into Singleton Park. It's just us. We walk down a short path and enjoy the view of the muddy confluence of North, South and Main branches of the Umpqua River. We pause for a selfie in which we look cold, but content. 
We retrace our route through fresh plowed fields, back onto Garden Valley and back into the bustle of cars whirring past us. We climb Garden Valley hill and congratulate one another for making it. We swoop back down Troost Street, make a California stop at the left turn, and then pedal the rest of the way to the locomotive.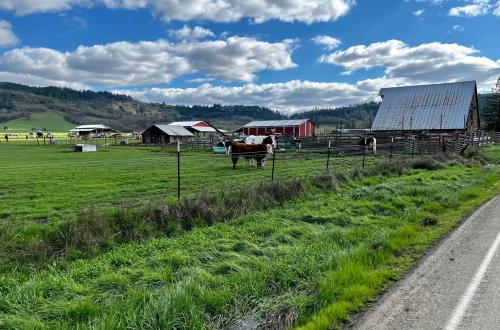 The point of these Tuesday Night Easy Rides is to invite and encourage new riders or those who haven't ridden in awhile. We usually leave the locomotive for a slow 3-mile lap around Stewart Park and the VA or head down the bike path through Gaddis Park. It's a rare early-season occurrence when we get to choose a 12-mile route. 
2022 will be my third year leading these Easy Rides. Showing up is principally an act of faith and I haven't been disappointed. A core group of riders has emerged every year and by August, we're riding 15+ miles every Tuesday evening. I used to pride myself for "facilitating these rides for others," but I do it for myself. I never regret a bike ride I finish. Tuesday nights from April to October are my weekly reminder of the inestimable value of just showing up.