On October 3, 1872, Roseburg became officially incorporated by the state of Oregon. That makes this coming fall Roseburg's 150th birthday. We're kicking off the celebration with something that shares Roseburg's rich past and blossoming future – Umpqua Valley wine – and there is no better time to pay homage to both Roseburg and its wine industry than during Oregon Wine Month. If the soil could talk - oh, the stories it would tell. 
1880s
Just about as soon as Roseburg was put on the map, vines were put in the ground. The Umpqua Valley's wine-growing history dates back to the 1880s when German immigrant, Adam Doerner, moved to Roseburg after a year working for the oldest-operating vineyard in Napa: Beringer Bros. He purchased land in Melrose and planted the first wine-grapes in the region. Rumor has it that Doerner never drank water – only wine.

Middle row: Adolph Doerner (young boy in hat), Adam Doerner (second from left), Henry Doerner (third from left) circa 1895. | Photo courtesy of Linfield University and the Oregon Wine History Archive.
1920s
Doerner grew zinfandel, riesling and a sauvignon varietal from European grape stock. The farm also produced a fruit orchard, hay, and ranching cattle and sheep. After Adam Doerner's passing in the 1920s, his son Adolph took over and decided to make Doerner Winery an official commercial winery. 
Adolph's wine was called "Melrose" or often known as "Doerner Wine" or "Doerner Dew" and was a fortified blend of riesling, pinot gris and pinot blanc. It was considered light and fruity, with a good balance of sweetness. The winery produced about 7,000 gallons per year until it closed in the 1960s. Richard Sommer then purchased Doerner's equipment for his winery – HillCrest Vineyard.  

(Left) Wine label from Doerner Vineyards. (Right) A man stands next to a wine vat that is being used to bottle wine. | Photo courtesy of Linfield University and the Oregon Wine History Archive.
1960s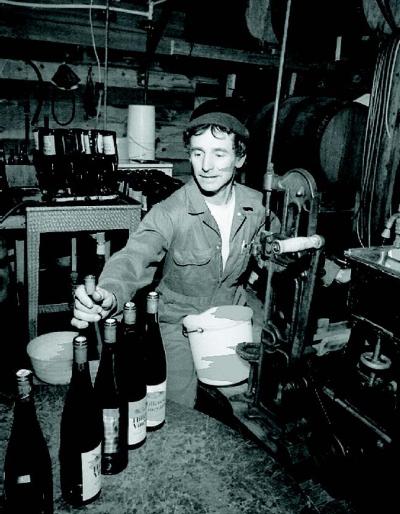 Sommer founded the still-thriving HillCrest Vineyard in 1961, making it the oldest continually-operating post-prohibition estate winery in Oregon. Sommer was also the first to plant pinot noir vines in Oregon, making HillCrest the birthplace of Oregon pinot noir. 
By 1969, winemaking in Roseburg started to boom and the Oregon Winegrowers Association for the Umpqua Valley was established. By the 1970s, many of the local wineries still in the area today were born, including Henry Estate Winery – a name not only recognized for its wine, but also recognized globally for the development of Henry's unique trellis system.  
Richard Sommer of HillCrest Vineyard first planted Pinot Noir in Oregon in 1961 | Photo courtesy of 1859 Oregon's Magazine.
1990s - Present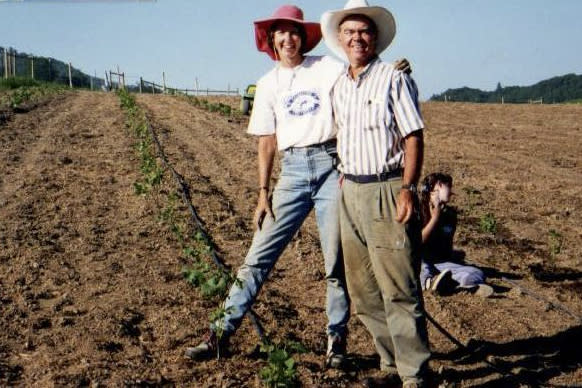 Earl and Hilda Jones planting Abacela in 1995. | Photo courtesy of Oregon Wine Board.
Wineries in the Umpqua Valley started as industry pioneers and only continue to raise the bar and pave the way for others around the world. Abacela not only planted the first Albariño vines, but produced the first Albariño wine in the country. Abacela's Estate Tempranillo became America's first internationally-acclaimed bottling of the varietal. Reustle Prayer Rock Vineyards planted and produced the first commercial Grüner Veltliner and has brought in over 500 national and international wine awards. And that is just to name a few.
Umpqua Valley's AVA (American Viticultural Area) was founded in 1984 and hasn't stopped growing. Now, the Umpqua Valley hosts three separate AVAs: Elkton, Red Hill and Umpqua. The region is currently closing in on 4,000 acres of vineyards, nearly 30 family-owned-and-operated wineries, and over 40 different wine varieties. 
Pour yourself a glass of Umpqua Valley wine and you won't be drinking just award-winning wine - you'll be consuming 150 years of history, legacy, and family. Many wineries are open daily for tastings. Visit experienceroseburg.com/wine for more information.