In the latest episode of Between Two Rivers we got to see some of the rolling hills by taking the backroads around the Umpqua Valley. Here are three great loops that showcase what our countryside has to offer. Exit the interstate and take the long way around on any of our country roads and soak up the pastoral beauty of the Umpqua Valley.

Winery Loop
Take a drive in the country and soak up some pastoral beauty as well as some world-class wine. Start your drive going south through Winston and then make your way through the small communities of Lookingglass and Melrose to catch a glimpse of days gone by, old barns and structures still stand after a century. Every bend in the road leads to another field filled with local produce or farm animals. Find yourself surrounded by rows of grape vines as you journey through the fields and hillsides of our vast wine country. Their rich purple fruits waiting to be harvested and turned into world-class wine. Stop by Melrose Vineyards or Delfino for a glass to polish off your drive as the sun softly sets on the horizon.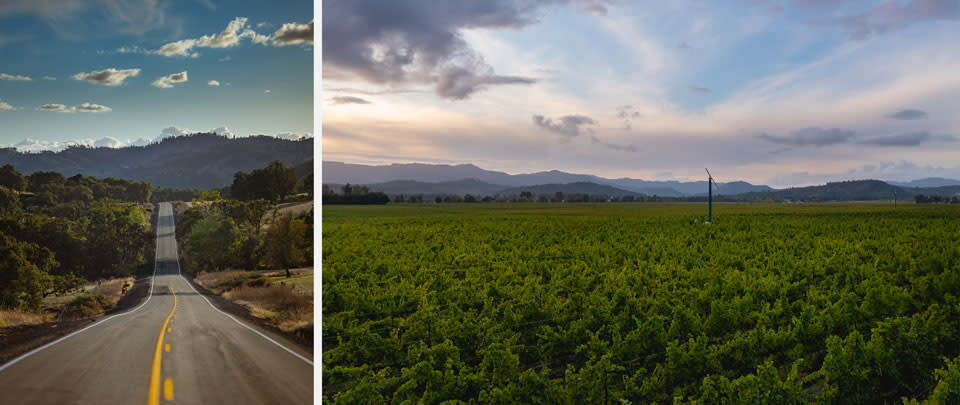 DIRECTIONS:
Leave Roseburg heading south along Highway 99. Once in Winston, take a right onto Lookingglass Road into Lookingglass, then continue your journey on Colonial Road into Melrose. Take a right onto Garden Valley to get back into town.
 
---

North Bank Loop
Follow the North Umpqua River as it carves its way through rolling hills. Stop at North Bank Wilderness Area for a hike with views of the nearby valleys. In Glide, get a closer look at the North Umpqua River at Colliding Rivers, where the North Umpqua crashes into Little River. While in Glide, grab a cup of coffee at The Atom Bistro & Coffee Bar. Follow Highway 138 back into Roseburg for views of green pastures or take the even more scenic route back to Roseburg, by taking Buckhorn Road.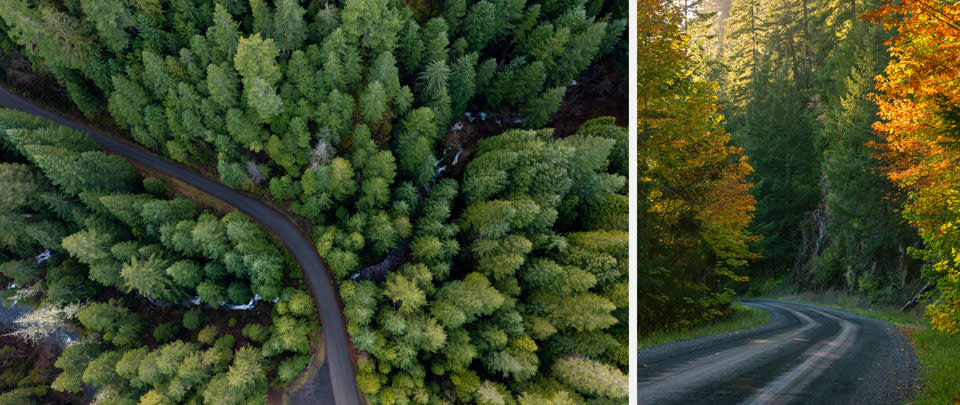 DIRECTIONS:
Leave Roseburg heading north along Highway 99. Take a right on North Bank Road in Wilbur and head east. Follow North Bank Road until you reach Glide. Head back west along Highway 138 or for an even more scenic route, take Little River Road until you reach Buckhorn Road. Then take a right and follow the road until you reach Dixonville and continue west on Highway 138/Diamond Lake Boulevard back to Roseburg.
---

Oakland Historic Loop
Head out of town following the Umpqua River and you'll reach the community of Umpqua. Here you'll find one of the best bakeries in the Umpqua Valley, Lighthouse Bakery. Enjoy one of their vegetarian sandwiches or delicious baked goods. From the bakery, head north and you'll reach the Rochester Covered Bridge. Continue along Rochester Covered Bridge Road and you'll head into the small historic town of Oakland. Here the streets are scattered with antique shops and eateries nestled in historic buildings. On your way back to Roseburg, take historic Highway 99 for more rolling hills and pastures.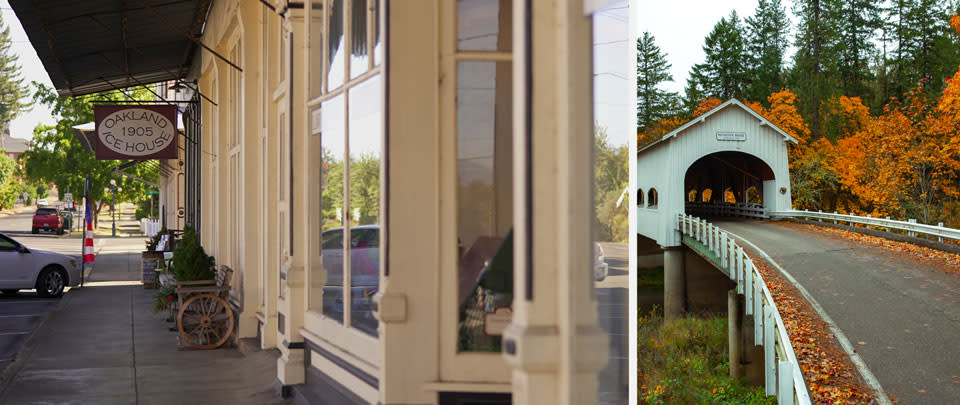 DIRECTIONS:
Leave Roseburg heading north along Highway 99. Take a left onto Del Rio Road and then take a right onto Garden Valley Road continue until you get to Fort McKay Road in Umpqua. Take a right and drive until you reach Highway 138 take a left onto the highway. Continue for a quarter mile then make a right on Rochester Covered Bridge Road and follow until you arrive in Oakland. Then from there take historic Highway 99 south, to get back to Roseburg.