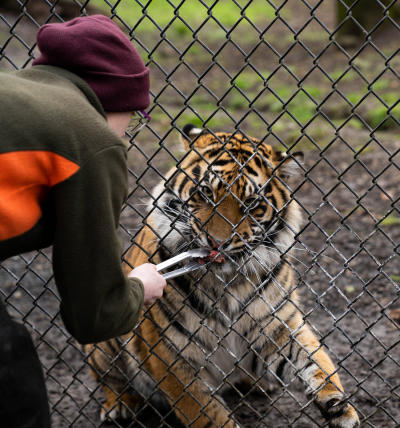 Nothing quite beats a spring break being stuck in traffic by a rhino blocking your car or a 15-foot tall giraffe peering through your window. Just a short journey south of Roseburg to Winston, you'll find more than 500 animals from all over the world that make their home at one of the nation's top animal parks - Wildlife Safari. 
Chosen for its natural resemblance to South Africa, Wildlife Safari sprawls out over 600 scenic, hillside acres and offers far more than your typical zoo. The park gives visitors an up-close-and-personal drive-through experience with free-roaming animals representing multiple continents and including many endangered species in addition to several private encounters and a walk-around Safari village. 
Daily encounters are offered at the park and include: Red Panda U-Feed, Tiger Training, Cheetah Photo, Lion 101, Giraffe U-Feed, Elephants, Gator Feed, Big Bears, Lion or Tiger U-Feed and more. These encounters can change; please check https://wildlifesafari.net/today or call 541-679-6761 extension 3200 for questions. 
After a thrilling Safari drive-through and encounter, the Village is a free walk-about zoo featuring additional animals such as reptiles, birds, a petting area, Red Pandas, Australian Wallaroos, big cats, native wildlife species and more. Shows at the Safari Dome, animal keeper chats, a playground, camel rides, train rides and a cafe are also ongoing and available at the Village.
Wildlife Safari is open 363 days per year from 9 a.m. to 4 p.m. and the Safari team says spring is a wonderful time, during all park hours, to catch playful animals enjoying the change in season.
For more information visit wildlifesafari.net.
Fun Fact: Wildlife Safari is the largest cheetah breeder in the Western Hemisphere, having ushered in more than 240 cheetahs since its start. They strive to have two to three cheetah litters annually.